ReStore
Phone:
(269)948-9998
Shopping Hours:
Tuesday        10am-3:00pm DONATIONS ONLY
Wednesday  10am-3:00pm DONATIONS ONLY
Thursday     10:00am-6:00pm
Friday          10:00am-6:00pm
Saturday     10:00am-6:00pm
Location:
1220 W State St. Hastings, MI 49058
We are located across from McDonald's ​in Hastings.
The ReStore entrance is on the East side of the building.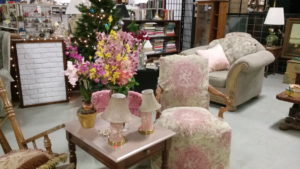 The ReStore Staff members (Jerry, Tyson, Bonita, and Katie) are here to help you!  They will help coordinate your donations of quality hard goods (building materials, appliances, furniture, etc.)  to be sold in the ReStore, or assist you with your shopping during hours the store is open!
All items in the ReStore are sold to raise money in support of the Habitat for Humanity Barry County mission.  *We regret we can no longer accept electronics for recycling*   For more donation guidelines please call (269)948-9998.